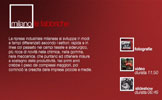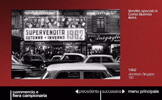 2006


Compositing |

compositing


Animation |

animazione


Documentary |

documentario


Motion graphics |

grafica animata e titoli


Corporate video |

video aziendale

2005


Video clip |

video musicale


DVD promo |

prototipo DVD


Video projections |

video proiezioni


Video cutting |

montaggio video

2004


DVD publishing |

pubblicazione DVD


Video cutting |

montaggio video

2003


Motion graphics and trailers |

Grafica animata e sigle

"Milano: la fabbrica del futuro" was an exibiton placed in Spazio Oberdan of Milan; project and visuals were made by Design Network studio. The content was about the history of Milan from 50s to earliest 70s: they were the years of rebuilding and there were deep transformations in urban and social aspects of the city (in politcs, economy, architecture, art, sports, etc.)
The exposed material was made by pictures, video donuments, stamps and painting; it was collected and expanded into 10 DVDs wich were consulted by visitors. "Milano: la fabbrica del futuro" è stata una mostra tenutasi allo Spazio Oberdan di Milano;il progetto di allestimento e la realizzazione del materiale visuale è stato a cura dello studio Design Network di Milano.
L'oggetto della mostra è stato la narrazione di Milano dal dopoguerra fino ai primi anni '70, attraverso digressioni su personaggi politici, economia, architettura, arte, sport, spettacolo, ecc. Il materiale esposto (fotografie, documenti video, stampe e quadri) ed ulteriori contributi sono stati raccolti in 10 DVD di approfondimento, resi consultabili durante la visita della mostra.