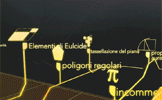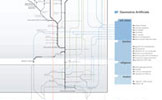 Final thesys|

Tesi

5th Year|

Quinto anno
4th Year|

Quarto anno
3th Year|

Terzo anno
2th Year|

Secondo anno
1th Year|

Primo anno
The final Thesys is basicly made by the manosricpt: it's a resarch and organization of some Geometry's iussues and their relations between them and the shapes of the real world. In a second step there was the design of a system, digital based, for creating a multimedial product for scientific divulgation.
At least I produced a short video for a first prototype of visualization.
La tesi di laurea è principlamente costiutita dall'elaborato scritto: ricerca e organizzazione di informazioni rigurdanti alcune istanze della geometria e il loro rapporto con le forme del mondo reale. Successivamente, viene delinato un sistema per creare, attraverso l'uso di supporti digitali, un prodotto multimediale per la divulgazione scientifica.
Infine, è stato realizzato un piccolo video per una prima proposta di visualizzazione.