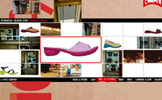 Final thesys|

Tesi
5th Year|

Quinto anno
4th Year|

Quarto anno
3th Year|

Terzo anno
2th Year|

Secondo anno
1th Year|

Primo anno
In the last year of courses, the field of laboratory's activity was the design for exhibitions. By a team work, the scope was to manage a collection of Italian classics of product design and to project their permanent placement into the Triennale building. We also developed both the graphic identity of it and its internal comunication.
In the same year I studied further multimedial Web solutions.
L'argomento del laboratorio di sintesi finale è stato il design dell'allestimento museale. Attraverso un lavoro di gruppo ,si è passati dalla gestione di una collezione di significativi oggetti del design italiano alla progettazione di un ipotesi di allestimento permanente presso la Triennale di Milano. Sono stati inoltre sviluppati sia la comunicazione interna al museo che la sua immagine coordinata.
Nello stesso anno gli studi hanno riguardato l'abito della multimedialitÓ per il Web.