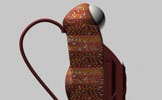 Final thesys|

Tesi
5th Year|

Quinto anno
4th Year|

Quarto anno
3th Year|

Terzo anno
2th Year|

Secondo anno
1th Year|

Primo anno

First approaches to design: the activity of main lab is oriented to the creation af a travelling object which is projected by the principles of generative design.
The project's exposition is made by my first HTML support.
Primi approcci al design: la attività di laboratorio è rivolta al design di un oggetto da viaggio secondo i principi e il metodo della morfogenesi, ossia la definizione dei parametri e delle dinamiche per una progettazione di tipo generativo. L'

esposizione del progetto

avviene mediante la mia prima realizzazione HTML.